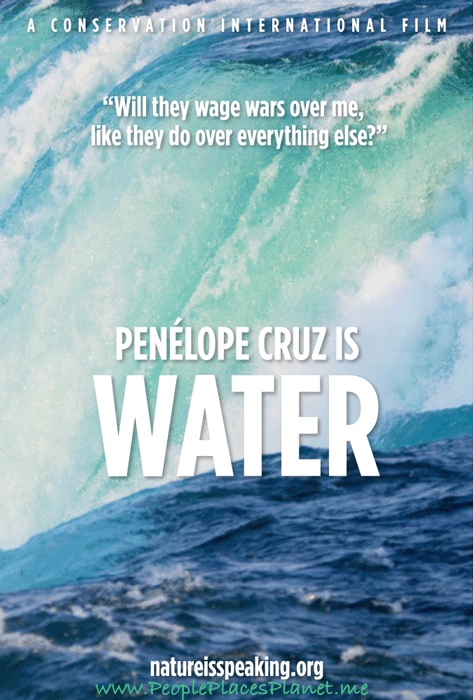 Water the foundation of life, over 70% of our bodies.
How much do we value, appreciate, protect & share that which is ours? Today's Nature is Speaking is Water.
"There is only so much of me."
"Will they wage wars over me, like they do over everything else? "
Nature Is Speaking – Penelope Cruz is Water | Conservation International (CI)
Julia Roberts, Harrison Ford, Kevin Spacey, Edward Norton, Penélope Cruz, Robert Redford and Ian Somerhalder all join forces to give nature a voice. Watch: #PenelopeCruz is #Water.
Over the coming days we will share with you the Nature is Speaking series.
Today: "Penelope Cruz is WATER"
Contemplate and Enjoy!
(Press play to begin) 
 For further information check out the nature is speaking website: http://natureisspeaking.org
#makingadifference #planet #peopleplacesplanet #weareone #NatureIsSpeaking #conservation #eco #green  #activism  #planet#peopleplacesplanet #quote #quoteoftheday #peopleplacesplanet #life #body #survive
---
Enjoyed this?...You might also enjoy:

 Our LATEST Posts
---